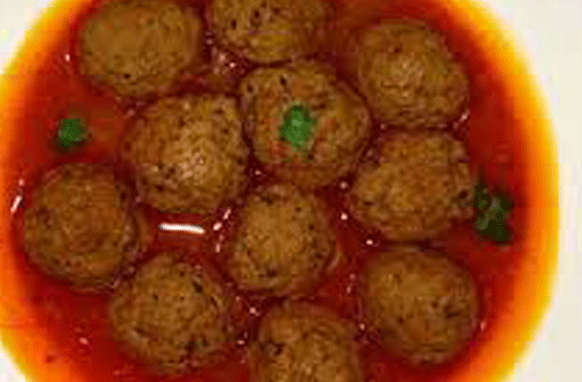 Ingredients
| Quantity | Measure | Ingredients | Description |
| --- | --- | --- | --- |
| 1/2 | Kilogram | Mutton - Mince | Fat Free |
| 1 | Slices | White Bread | Soaked in 1 tablesppn of milk |
| 1 | Tablespoon | Ginger Paste | Add |
| 1/2 | Tablespoon | Garlic Paste | Add |
| 2 | Medium | Chillies Green | Finely Chopped |
| 1 | Nos. | Onion | Finely minced |
| 1 | Tablespoon | Coriander Leaves (Kothmeer) | Finely chopped |
| | As Required | Salt | as per taste |
| 1 | Teaspoon | Garam-Masala | Add |
| 8-10 | Tablespoon | Cooking Oil | For Frying meat balls and curry masalas |
| 4 | Large | Potatoes | Cut in fours - Keep aside |
| 1 | Medium | Onion | Finely Sliced |
| 2 | Tablespoon | Onion | Paste |
| 1 | Tablespoon | Turmeric Paste | Fry |
| 1 | Teaspoon | Chilly Paste, Red | Fry |
| 1 | Tablespoon | Ginger Paste | Fry |
| | As Required | Salt | to taste |
| | As Required | Sugar, Table | to taste |
Method
To make the Meat Balls/Koftas
Wash the minced meat well and remove any ligaments present. Grind the minced meat in a food
processo

Squeeze milk from the bread and add it to the minced meat and mix well.
Add the ginger and garlic pastes, green chillies, minced onion and coriander leaves.

Finally add salt and the powdered garam masala. Mix thoroughly. Kneathe mince for a few minutes. Divide it2 into 12 to 16 balls equal portions and form into balls. Heat oil in a pan and fry the
mince balls till golden rown. Remove from pan and keep aside.

To make the curry:
In the same pan in the remaining oil, fry the potatoes till light brown. Remove and keep aside.

Remove the excess oil and leaving about 2 table spoons of oil in the pan. When very hot, fry the sliced onion until brown. Add the onion paste, thturmeric, chilli and ginger pastes. Fry for
5-7 minutes, sprinkling water if necessary.

When the masalas are well fried, add salt and a little sugar to taste. Add two cups hot water and bring to boil. Boil for five minus.

Add the potatoes and after ten minutes, add the fried meat ball.

Simmer over medium heat only until potatoes are done and the gravy is reduc half.

Remove from fire.