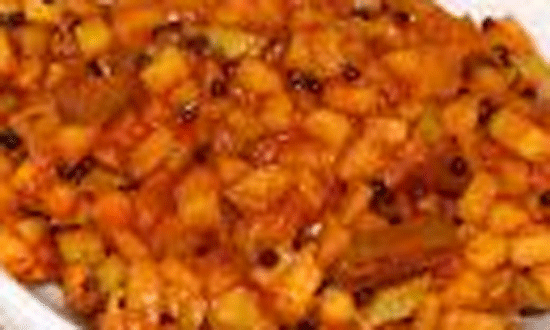 Ingredients
| Quantity: | Measure: | Ingredients: | Description: |
| --- | --- | --- | --- |
| 12 | units | Mango | fleshy and large. |
| 4 | Teacup | Salt | powdered salt |
| 200 | Grammes | Garlic | minced masala |
| 200 | Grammes | Ginger | minced masala |
| 100 | Grammes | Chillies Green | minced masala |
| 2 | Teacup | Salt | Boiled in 4 cups of water |
| Half | Bottle | Vinegar | |
| 100 | Grammes | Chillies Red Dry | dry and powder |
| A | Little | Turmeric/Haldi | dry and powder |
| Half | Tablespoon | Mustard Seed | dry and powder |
| Half | Tablespoon | Asafetida (Hing) | dry and powder |
| Half | Bottle | Sweet Oil | for tempering |
| A | Few | Curry Leaves | cut in bits - for tempering |
| 1 | Teaspoon | Mustard Seed | for tempering |
Method
1. Remove a thin layer of the skin. Then make thick slices of the mango, touching the seed.
2. From these slices, make very small cubes of mince.
3. Make 2 cups of powdered salt, and rub it into the minced mango pieces.
4. Place the pieces in a wooden vessel, with a lid, and a heavy weight for pressure.
5. Next day, remove the minced pieces from the brine, squeeze all water, and keep aside, for drying.
6. Make a minced masala from, garlic, ginger and green chillies.
7. Boil 2 cups of salt, in 4 cups of water. Boil for half an hour, till salt crystals begin to form.
8. Add the vinegar to the boiling salt water.

Powder Masala:

Powder red chillies, turmeric ad mustard seeds with asafetida - hing.

10. Add the powdered masala to the vinegar and salt solution. When cool, add the mango pieces.

11 Temper with sweet oil bits of curry leaves and mustard. Put this into the pickle. When cool, bottle the pickle.